According to Perez Hilton , Queen Bey admits she communicated with her daughter in order to get through a very painful labor. We were talking. I know it sounds crazy, but I felt a communication, she spills in the November issue of Marie Claire Australia. Hollywood Life reports that the Halo singer also used visualizations to work through the pain. I felt like when I was having contractions, I envisioned my child pushing through a very heavy door. And I imagined this tiny infant doing all the work, so I couldnt think about my own pain, she said. Bey revealed that her connection with Blue began around eight months into the pregnancy, and she has continued to grow that bond with her daughter. I felt very maternal around eight months. And I thought I couldnt become any more until I saw the baby…But it happened during my labor because I had a very strong connection with my child. Blue Ivy is Beyonces first child with husband Jay-Z. We bet their bond as a family is even stronger now! Image courtesy of Wikimedia Commons. 4.5
Iggy Azalea: 'I really admire Beyoncé'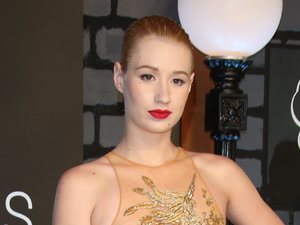 Azalea is to open up for the Australian leg of Beyonce's 'Mrs. Carter Show World Tour' later this month. WENN Yui Mok/PA Wire/Press Association Images Beyonce performs at V Festival. The rapper recently shared with BET's 106 & Park that she has been greatly influenced by the 'Love on Top' singer. "I love me some Bey. I really like all her tour looks," Azalea commented. "I've kinda been biting little things from them. I have to admit, I really admire her." Azalea also discussed her friendship with rapper TI, calling him a "good friend". "Sometimes he gives me lipstick advice," she said, adding: "Sometimes he gives me some style help too. He's cool. That's what good friends do. Good friends can't let you walk out of the house looking crazy." Azalea recently released music video for her new single 'Change Your Life' , which features TI. Watch the music video for 'Change Your Life' below:
Beyonce's Pink Nails for Breast Cancer Awareness — Get Her Exact Polish
1, she posted an Instagram picture showing off her pretty pink nails supporting Breast Cancer awareness! Show your support while also getting her exact nail look! Beyonce is all about female empowerment! She posted an Instagram photo debuting her pink nails in support of Breast Cancer awareness in the month of October. We are loving her pretty pink nails find out how you can get her exact nail look below! Beyonces Pink Nails Get Her Pretty Pink Nails Beyonce is recruiting fans via her Instagram to support Breast Cancer awareness this month! In her new photo, shes wearing tons of metallic bangles and sparkly rings while painting her pinky nail a glitery pink. Her exact shade Nails Inc. Paint Your Pinkie Pink. Beyonce is supporting a great cause she captioned the photo: Breast Cancer awareness month starts today paint your pinky pink! To achieve Beyonces nails, follow these simple steps: Step 1: With clean nails, apply a base coat. Step 2: Apply two coats of a pink nail polish of your choice allow the color to dry in between coats. Step 3: Using Nails Inc. Paint Your Pinkie Pink, apply this to your pinky nail.